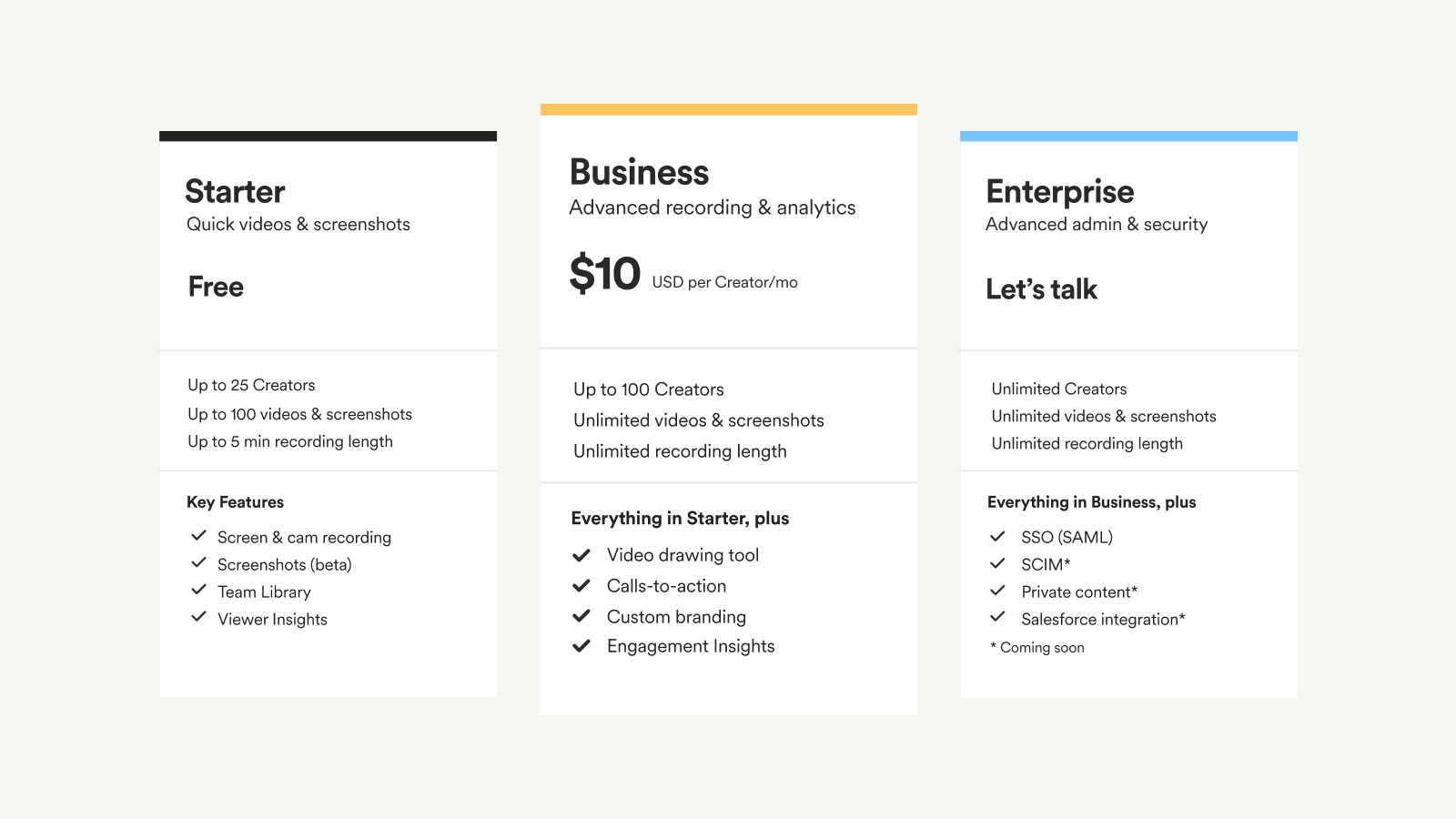 DATE:

AUTHOR:

Matt Hodges
Announcement
Starter Plan
Business Plan
Enterprise Plan
Simpler pricing and team workspaces for everyone 🙌🏻
DATE:
AUTHOR: Matt Hodges
We've reduced the number of plans from four (Basic, Pro, Business, Enterprise) to three (Starter, Business, Enterprise) and are making team capabilities available on all plans – free and paid.
New free plan: 25 Creators, unlimited Viewers, new recording limit
Loom Starter includes all the features that were available on Loom Basic, plus:
Collaborative Workspace: Invite up to 25 Creators to record, organize, and edit videos in your Workspace.

Team Library: A central video repository for all members of your Workspace.

Shared Library: Make select videos available to specific members in your Workspace.

Unlimited Viewers: Invite as manyViewers as you like to join your Workspace for free.

Screenshots (beta): You can now take instantly shareable screenshots with Loom's desktop apps.
To continue to make Loom available for free, we've introduced a five-minute limit on new video recordings on Loom Starter. The limit does not apply to your existing recordings.
Loom Pro + Business = one new plan, same affordable price
We've combined Loom Pro and Loom Business into a single plan. The Loom Business plan starts at just $10 per month.
If you were subscribed to Loom Pro, you're now subscribed to Loom Business, and you get the following additional features at no additional cost:
Custom branding: Add your logo and change the color of the video player to match your brand on the videos you share with prospects and customers.

Engagement Insights: See who watched your video, how much they watched, their emoji reactions, and the conversion rate of your call to action.

Video uploads: Quickly populate your Workspace with existing video content and make Loom a centralized repository for your entire company.
With Loom Business, you can invite up to 100 additional Creators to collaborate in your Workspace for just $10 per Creator, per month. You get unlimited Viewer accounts for free.
Visit our pricing page for more information.